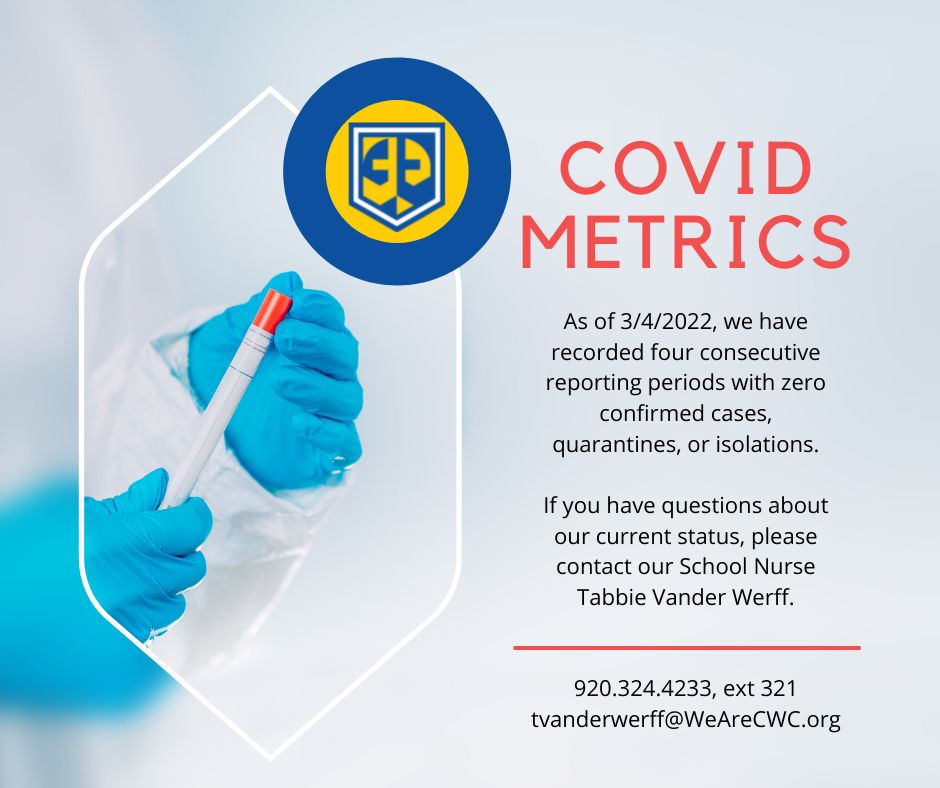 Central Wisconsin Christian
Safe Return – 2021-2022
School and Family Information
The CWC Board believes that in-person learning is the optimal environment for our students' academic
success. With COVID-19 still present in our communities, the Board presents the following protocols for
the start of the school year. Because of changing situations in our communities, the following protocols may
be changed should we see an increase in positive cases within the school building.
Parents should keep children home who may be experiencing COVID-19 like symptoms.
Masks
Masks are optional in all environments with the exception of Waupun Area School District public
transportation, on which, masks are required.
Social Distancing
Classrooms will operate at full capacity with no distancing requirements.

Vaccinations
Vaccinations will not be required of students and staff but an inquiry into vaccination status may be necessary
in the case of close contact with a positive case. Quarantining of a student or staff member may be
dependent upon their vaccination status.

Testing
CWC may require an antigen or PCR test from symptomatic persons or those with household close contact.
No student will be tested without parental consent. Students and staff who test positive for COVID-19 will
be required to quarantine.
Activities
Frequent sanitizing and hand washing will be encouraged. Specific hygiene actions reduced classroom illness significantly during 2020-2021.
Outside speakers and presenters will be welcome given they are experiencing no symptoms.
The number of spectators will not be limited at school activities at this time.
Outside groups may rent the CWC facility.
The CWC kitchen crew will offer normal food services.

*We ask that parents not enter the building at the beginning and end of the day when bringing or
picking up their children as a means of reducing traffic flow in our hallways.